On September 20st and 21st of September, Pfizer, one of the worlds leading pharmaceutical brands hosted their annual storytelling summit in the heart of London. I was honoured to be part of the speaker profiles and tell my story through examples of work done at VICE Media, Professors Without Borders and UNAids. As Director of VICE Impact EMEA, integrity, accountability and truth are three vital component of storytelling especially for brands in the 21st century. Our audiences/tribes who watch VICE content on a daily basis through either our numerous TV channels, Social channels and Social media (i.e 73 million young people monthly) have an incredibly fine tuned bullshit radar. That means that they know and feel instantly if someone is selling to them and telling tales rather than stories to make a brand or product more appealing to them.
In part one I talk a little bit about my military story and what made me the person I am today:) (click on link)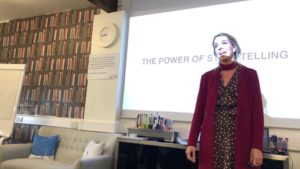 Telling stories is a power tool that world leader, business owners and really each and everyone of us is using for our own benefits of either fit in with a specific tribe we want to reach or belong to, or sell a product that we truly believe in.
Part two talks about storytelling in business with the example of my work with VICE media as well as an example of Pfizer: (click on video below)
Storytelling has the power to unite as well divide. Today at World Peace Day the power of story telling is especially put in the spotlight. It is a story that can bring peace as well as war, it is a story that unites cultures as well divides them and it is a story that changes laws and policies for the good of society.
Part 3 talks about the story of Professors Without Borders: (click on link)
I profoundly believe in the inherent good a story can bring and use my storytelling in my private and professional live as a tool to enable positive, constructive and sustainable dialogue to happen.